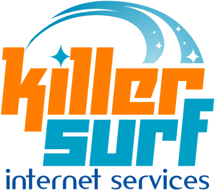 Services
Our mission is simple...
Supply Web Hosting and Design at an affordable rate. We also strive to do this in the most flexible and user friendly ways possible. We are here to assist you with your website and to make this process as painless as possible.
Please
contact
us for more information or to arrange a meeting by phone or in person.
Sincerely,
Brent Burzycki, William R. Shockley
Killer Surf Internet Services